I believe I have arrived at the cooking configuration that will last me through this journey. I will not 100% commit, as I am still early in this thing, but I wanted to provide what I have learned or observed thus far.
My past experiences preparing food and meals at camp span the continuum. When I was both single and partnered raising a child, I camped alone, with my daughter, and then as family. Sometimes we would join other families or groups. We camped at developed sites, did some boat-in camping, or found a remote location and plopped down there. It was diverse and depended on the circumstances. We used a BBQ and charcoal, we used a propane camp stove, we used the fire and a stick from the woods. Heck, my Former Spouse even affixed a BBQ to the boat so that he could make a hot meal while on the water.
On this journey, a BBQ of any sort will take up a lot of space and will require a lot more things to use. If you have the space and that is what you want, knock yourself out. Here are some examples: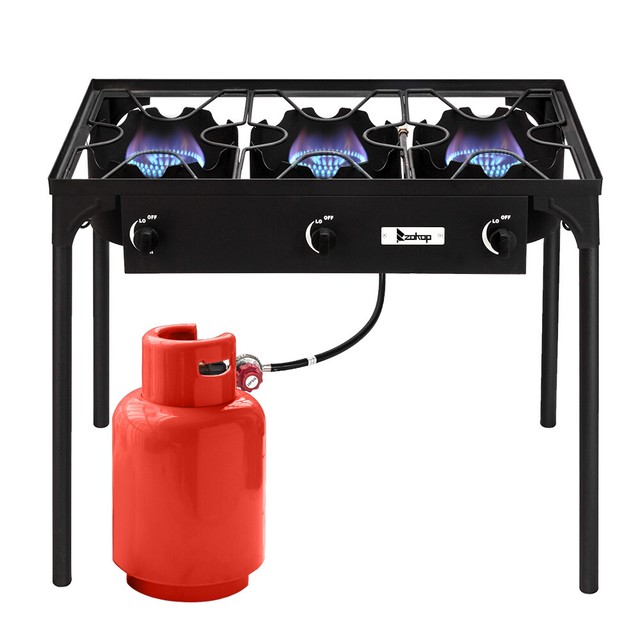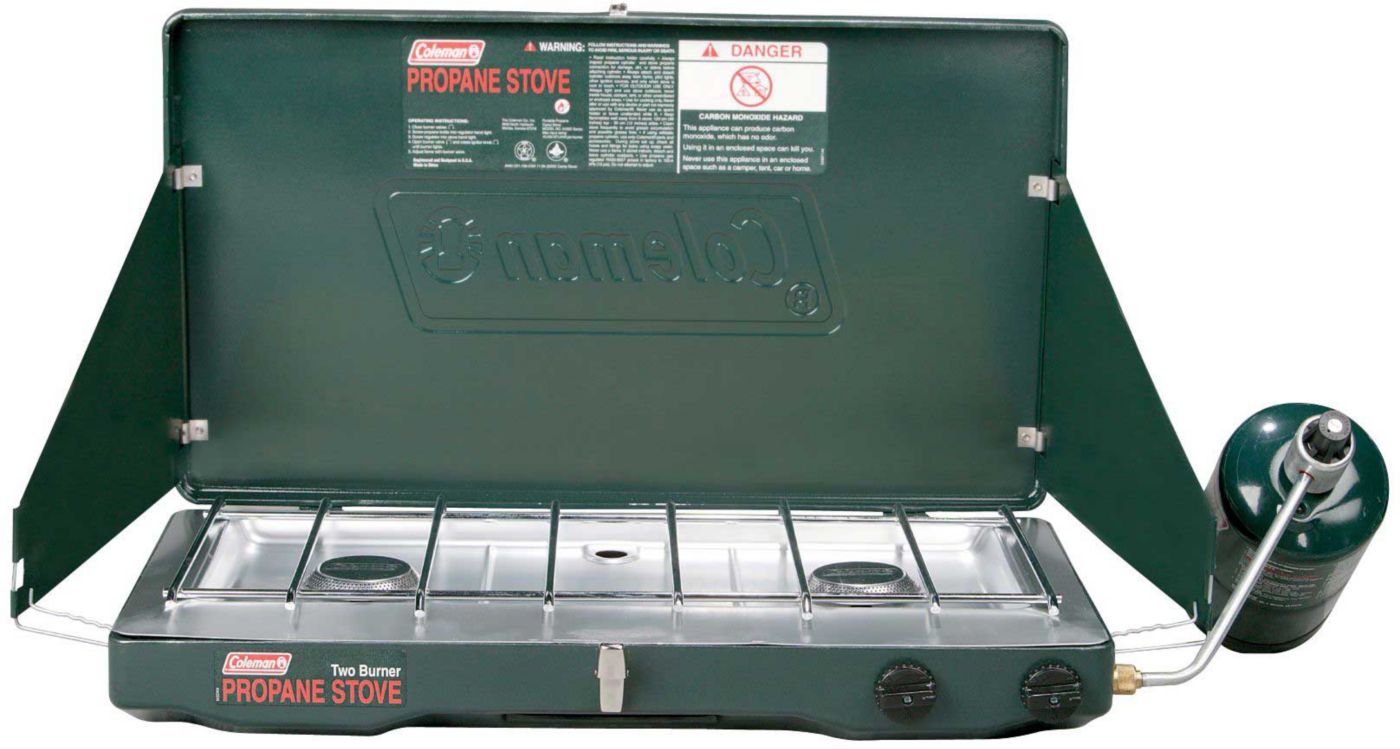 Traveling on the motorcycles, then later by myself, changed all that. We carried all we needed on the bikes, which of course, limited space. We literally packed like backpackers, using much the same gear. Small, compact, lightweight. We carried it on the bikes and not our backs. Fortunately, we both ride and could share some items, like only one tent. At that point, we went to a JetBoil system. That is a brand name, but the idea is that you get boiling hot water in about two minutes. The logo on the side will turn some bright color so you know the water is heated. Perfect for dehydrated meals or hot beverages. I never cooked in mine, but did camp with some fellow bikers who would cook soup or chili. These units fire up so hot and fast that I did not want all my water to taste like that food for the rest of the trip, so I stuck to water only. We usually ate one hot meal at camp, ate out once per day, eating cold food the rest of the time. Dehydrated food can be costly, but for two of us, it was cheaper than a sit down meal. Here is the set up we used:
Long term, I knew that only dehydrated meals was not sustainable. I do have some emergency food stashed away that could be heated up with water, or if I needed, I can eat right out of the packet. Fine, emergency food covered. CHECK! Now, if I wanted to minimize eating out, I would have to up my game and prepare more of my own food. I am also traveling with a cooler, which is new for me, and this opens up options I had not previously explored. Still, space is and always will be an issue.
I started my research. I knew the propane cooktop stove or BBQ was out. Way too much space, way too many things involved. I started looking at backpacking options. I found one that took three different types of fuel. Hey, now, that may be good so that when one runs out, I can use the other one. Here is a photo of what I originally bought:
The little can is what I started with. I am used to that from my JetBoil days. One simply hooks it in and off you go. However, now that I am cooking more than water, it takes way longer to warm up and sustain a boil, say, for Jasmine rice. That took a lot of fuel and the can quickly started to run out. Being who I am, I was prepared with the unleaded gasoline back up in the appropriate canister. I already had the can partially filled. Great, now all I had to do what switch out the parts to change the fuel source. Well, that was a production! Unbeknownst to me, one does not merely change fuel sources. Oh no, there are pages of directions and parts that must be switched out. That took me quite a bit of time. Note to self – fuel changes NOT quick and easy.
I switched to the unleaded gas version. It took me a couple tries, but I got the hang of it. I must stop here and share two things:
There is no way, no way at all to capture all of the nuances in what you are doing with written directions. Nope, cannot happen! There are just things that you have to experience first hand to understand. I applaud those who try, but really, directions are merely a guide, not a literal translation of that will or needs to happen.
Unleaded gas is messy. It is smelly and messy and a dirty fuel. No wonder our Earth needs alternatives. Once something gets gas on it, including yourself, it stays for what feels like days. I smell it forever.
Moving on…. I changed to the gas version and used it a few times. Well, it burns fine and uses way less fuel than the can. That is good. But, that crap leaks everywhere. I mean, you have to watch out when you take it apart as there is still gas in the lines, and storing something that smells like gas just freaked my shit out. I was too nervous to store the fuel can without the proper cap, so every time I used it, it was a change out for the cooking nozzle set up. Then, that set up was stored in a baggie with a rag because it still had gas on it. I worried about rising temperatures and fumes and all that. Despite the great efficiency, I was not a total fan.
The unit I had took three types of fuel and I had used two. REI here I come! I did not know anything about white gas and it was time to learn. Of course, the staff person was way helpful and I talked it through. I returned my multi-fuel stove and bought a single fuel white gas version. Heck, I would be in the area a couple more days, so if that was a fail, I could go back. I got the stove and some white gas. I put the rest of the unleaded gas in my Jeep and let the container dry out all day.
I filled it with the white gas and gave it a go. This was much better already. The flame still burned black, but not as much as the unleaded, and there was minimal smell. It handled better and performed faster, which I liked. I am not sure how much fuel it uses, and I know this fuel will cost more than unleaded gas, though less than the cans. I am feeling more comfortable and secure with this source. I am less afraid of fumes. It does not like to run when everything is cold, much like the rest of us. But, eventually, it gets there.
Starting it is also a little bit organic, despite the directions. There are things you just have to see or hear to know when to turn it up or down, stop or start. I am getting the hang of it, but I am not afraid to shut it down and try again in a few minutes.
In the end, I will stick with the white gas version on the following stove:
I will also be adding a fry pan to the mix of cookware. Here is what I currently have and what I will be adding in time:
I am very happy with this little kit, though I rarely use the plates. I already had a plate. The cups are nice for ingredients and staging of things while cooking. Nothing sticks so far and they seem to handle the heat just fine. I am loving the interchangeable handle and will make sure the fry pan I add takes the same one. I can maneuver both pans with one handle just fine. The pan does not get overly hot, either, and usually I can just use my bare hands to move things around. I got the nonstick versions, and not the ceramic. Mostly for cost and weight. So far, these are a win.
It was important to me to have a back up for the cooking, but to be honest, I do not need it. I mean, if I cannot cook for whatever reason, I have enough food to eat cold. I also have my emergency food. Honestly, I could not buy anymore food and probably last at least a week. I would not have meals, per say, but I would have food. My concern was unfounded and one fuel source will be fine. If I run out, I will buy more fuel the next time I can. Simple enough.