First, let me just start by screaming at the top of my lungs: WOMEN'S PANT POCKETS SUCK!!!!! In fact, many women's clothes do not even have pockets. They have these fake things that look like a pocket on the outside but are not a pocket in real life. Just a bunch of stitching and seams.
Second, if there are pockets in women's pants, they may hold some change or a wadded up tissue or a gum wrapper. That is about it. The pockets are too shallow, too narrow or, worst case scenario, do not exist at all. ARGH!!!
In the old days, when I was a shy, withdrawn, low-self-esteemed teenager, I lived in overalls. I think it was my way to hide, to stay in the background, and to NOT be noticed. I mean, they are not exactly figure flattering, fashionable outside of the farm or forest, and are not commonly worn in public. However, they do have pockets! Lots and lots of pockets. I did like that. These days, any pair of overalls I have are used for yard work and allow me to wear nearly any top without a bra. Let's be real, the chest flap part hides a lot. That I can appreciate. Well, that and the pockets.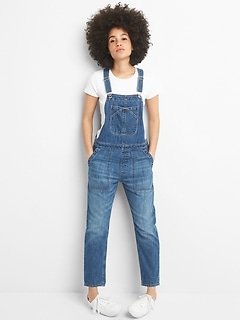 I thought about taking overalls with me, but then decided against it. The reason? I did not want to have the straps falling into the nasty outhouse commode or pit toilet or muddy forest floor. Honestly, I did not want the straps falling anywhere. Though I do appreciate their utility, those straps that have to come down when a woman is on the toilet are a pain in the ass and really hard to keep in a clean spot. I can see myself having to pee in a remotely forested location and the straps take a dive into the little stream I just made. Yuck.
I am taking one pair of blue jeans, but not for camp. I am taking a pair for town, for going out. They are Levi's and they are the first pair that ever fit me. I also bought them after I lost about 20 pounds. I was feeling saucy, sexy and thrilled to show off the new bod. Par for the course, though, the pockets suck and I cannot carry anything on or with me. So, they may look good but have very poor functionality. Fitted for the win!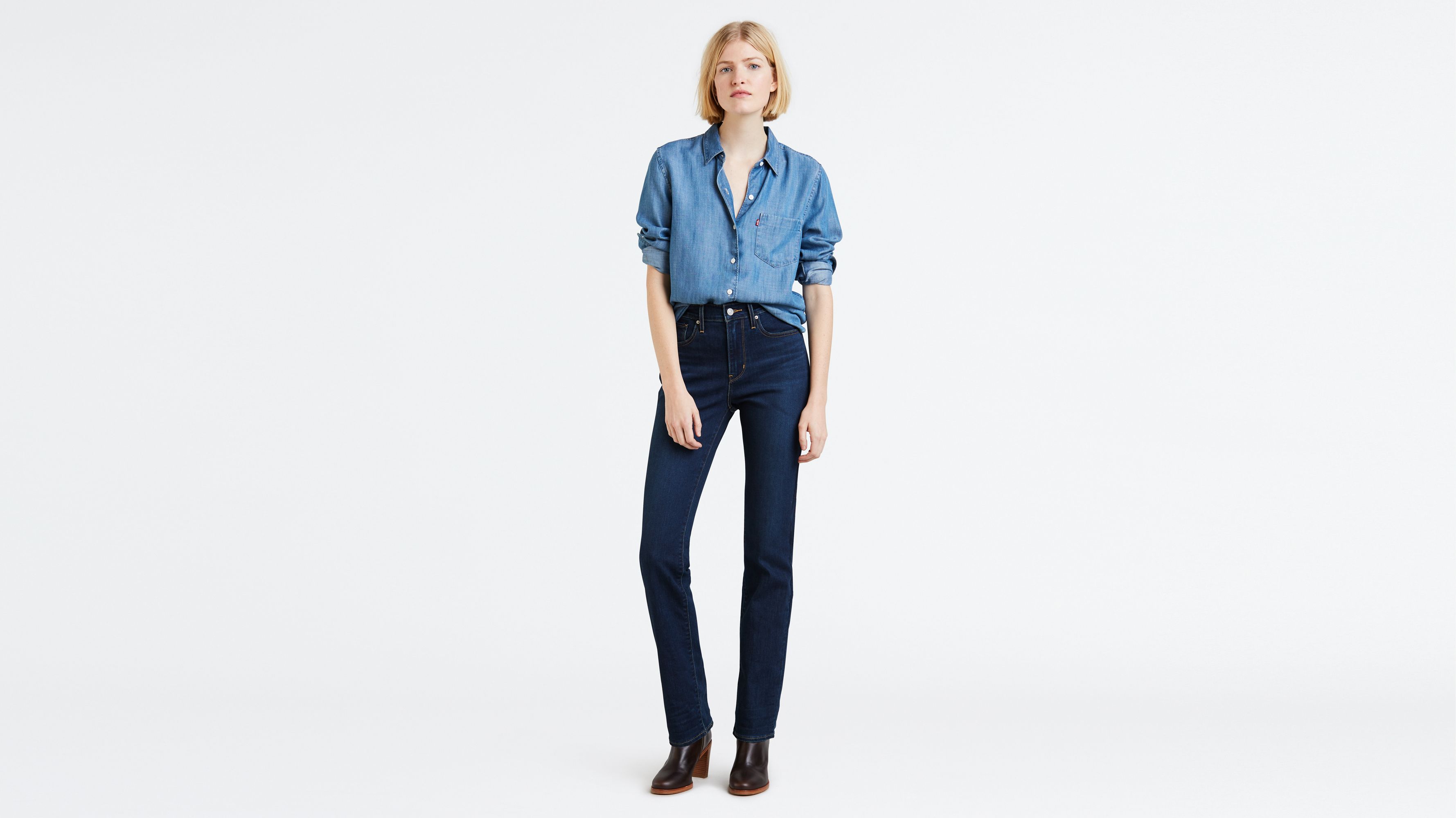 I also have those fancy zip-off pants. The outdoor kind that can convert into shorts with the quick flip of a couple zippers. I have had pairs from different brands and different colors. Out of the half-a-dozen or so I have owned, only one pair actually functions worth a dam. The shorts option is nice, and some of them have a cord at the bottom so you can pull them up part way, while others have an opening at the bottom so one can take them on and off with shoes or boots. However, and here we go again, the pockets suck. They are thin, small and do not hold anything. Some of the pants are water repellant or quick dry, which can be nice. Some of them fit better than others, at least on my body. I am taking one pair with me.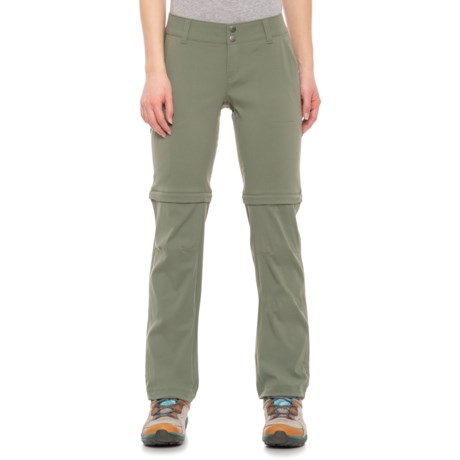 Then I discovered tactical and military style pants. Hallelujah!! Not only are there pockets galore, the pockets are huge, well placed and with pockets in the pockets! These pants are durable, generally water and stain resistant, and have cool little tricks to them. I have one pair of a men's, one pair of women's emergency response style, one army surplus, one women's pair designed to conceal carry a gun, and one para-military tactical. The mens pair come up way too high in the waist, which is my own fault. I know better than to buy men's anything! But, they will do in a pinch.
The generic military surplus pants are durable, water and dirt resistant. They have all the perfunctory pockets, with additions down near the ankle. I have not quite figured out what is the best use of those pockets, but I appreciate their presence. There seems to be no gender associated with the pants, but for the price of $5, I really do not care. I do hate the button fly. As a woman, I have to unbutton them all and not just the middle few. When I really have to go, I get hung up on the time it takes to get them down.
The emergency response pants are nice, but the side pockets are large. They do get a bit bulky when I actually put stuff in them. The customary side pockets one would put their hands in are deep and can actually hold my iPhone PLUS. The fit is a little big for my size, which leaves me room to carry a gun in the waist band. I do not mind the room to roam in the leg, as long as they are not hanging off me, which they are not.
The para-military tactical pants are my overall favorite. Not only do they have all the pockets, but they have pockets in the pockets to help keep smaller items organized. They also have two knife pockets, one on each side, so that my knife does not have to go in the front hand pocket. Hell, when I wear these I do not even need to carry a purse as I can put everything I need in the pants! I did go one size smaller, which dropped the waist and they ride a bit in the butt. The smaller size makes for a more feminine look with an overall better fit. These are a win!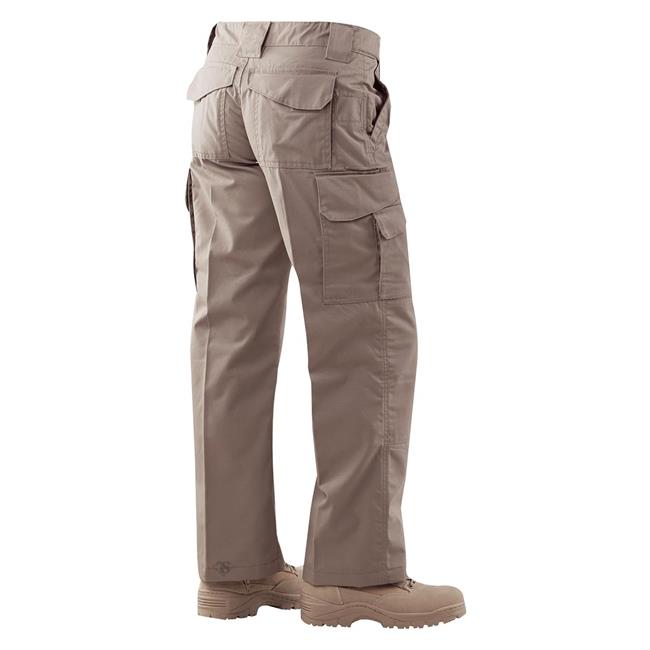 Last, but not least, I bought a pair of pants made by women for women. The feature here is a built in holster. These pants have four length settings so that one can adjust depending on the shoes or situation. Now, my legs are so short that I will only use one setting. I appreciate the thought, though! On the plus, they have a key ring attachment, plenty of pockets, and are water resistant. The front pockets are not very deep and BARELY hold my knife, which is a disappointment. The fabric is nice and has a decent stretch, and they have a fairly flattering fit. More feminine than some other brands.
On a scale from 1 to 10, one being the worst and 10 being stellar, thinking about life on the road, utility, form and function thus far, here is how I rate them:
Standard Women's Pants – 2
Women's Blue Jeans – 4
Girls With Guns range pants with built in holster – 9
Standard issue Army Surplus pants – 8
5-1-1 Women's Tactical Pants – 8
True Spec Women's Tactical Pants – 9
Oh, and in case you are wondering, we are not even going to talk about leggings, yoga "pants" or any of those other bullshit things that belong either under other pants, under a dress or skirt, or in the gym. THOSE ARE NOT PANTS!
I also try really, really hard to only buy women's clothes. I feel the clothing industry needs to make clothes that have form and function and fit for ALL of their clientele, and not just give the good stuff to the guys. The more women's items I buy, the more the industry knows where my dollar goes. That matters to me.